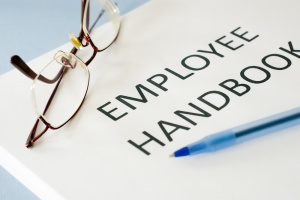 Employment laws in California offer certain provisions to employers, including a number of rights and protections specific to businesses within the state.
As part of these employment laws, an employer is not required to have an employee handbook; however, there are certain policies that must be included should the employer decide to create one.
There are also a few reasons why an employer in California may want to consider establishing a handbook, including:
     

Lay out expectations for new employees

     

Ensure the fair and consistent treatment of employees

     

Describe what to do in situations of harassment and injuries

     

Comply with regulations of federal and state governments

     

Establish solid legal protections and avoid lawsuits
How to Create an Employee Handbook
As we mentioned earlier, there are certain policies under California's employment laws that must be included in the handbook. In addition, if there are other native policies established by the business, they may carry legal requirements as well.
To create an employee handbook, it is best to work with an employment lawyer who can ensure that all policies comply with federal and state regulations, and that the language is legal and easy for employees to understand.
Find an employment lawyer in San Diego by contacting the Lawyer Referral and Information Service (LRIS) at (619) 231-8585.