When you feel confident that you are the father of a child, but your paternity is not legally established, it can be an emotionally stressful time in your life.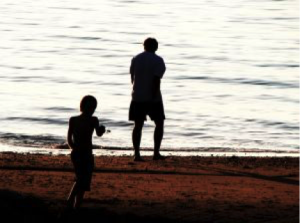 You may want the freedom to spend time with your child, but the laws may not allow you to do it.
The fact is, the Court will not make any orders related to child custody until the parentage – or in this case, paternity – is established.
If you want to establish paternity and attempt to qualify for child custody, then you can do so in one of the following two ways:
Acknowledgement of Paternity (AOP) – When the mother and father of a child are unmarried, they can sign an AOP to establish parentage without having to go to court.
Petition to Establish Parental Relationship – This form can be filed with the Court by either the mother or father, or with the help of a family law attorney. Generally, the petition is used when an AOP is not an option.
Once the paternal relationship is established, the father can start to pursue his rights to child custody and/or visitation.
Need help with establishing parentage?
The Lawyer Referral and Information Service (LRIS) refers clients to family law attorneys who can help answer questions and put you on the right path. When you obtain a referral from the LRIS, the attorney will provide you with up to 30 minutes of free consultation.
Modest Means Program for Low-income Individuals