School is out, summer is here, and we are all spending a lot more time in our backyards, on our decks, and in our pools.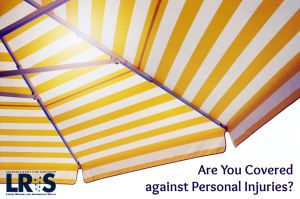 For homeowners, this season also means it is time to check for anything on the property that could cause an accident or an injury, such as broken tree limbs or loose electrical wires. We all need to protect our family and our guests from danger, so we can protect ourselves from personal injury claims, too.
Here are a few items for homeowners to check throughout the summer:
Hanging tree branches: If you have dead limbs, clear them from the tree to avoid having them fall on someone. Clear the roof of tree branches.
Outdoor furniture/umbrellas: During a storm, flying furniture can be deadly. Either put away furniture and umbrellas, or anchor them down.
Excessive or broken electrical wires: Inspect the outside of the home for wires that have come loose or that have broken off completely.
Swing sets: Check all parts to make sure they are working properly. Pay special attention to the framework of the swing set, to make sure it is securely grounded.
Trampolines: Inspect the springs and the mat regularly. Invest in an enclosure to protect jumpers from falling off of the trampoline.
Swimming pools/hot tubs: If you do not have a gate around your swimming pool – or some other way to keep uninvited guests out of the water – then consider getting one right away. Keep flotation devices near the pool or hot tub, in case of an emergency.
If a person gets injured on your property, then you could be at risk for a personal injury claim. It is important that you inspect outside areas regularly and take steps to keep them clean and safe. Not only are you protecting yourself from legal complications; you are providing a fun and secure environment where your friends, family and guests can feel relaxed and comfortable.
If you do find yourself in the middle of an accident or personal injury situation, then you should get a referral to a personal injury lawyer from the Lawyer Referral and Information Service (LRIS). This service provides referrals to attorneys or community resources that can help you navigate the legal process.