As we coast through the spring season and head toward summer, the number of cyclists on San Diego roadways will undoubtedly increase. Especially as kids are out of school and heading to the beach or downtown, and tourists pedal their way to and from local attractions.
This is why we want to remind cyclists and motorists of California's Three Feet for Safety Act, a statewide law that requires drivers to stay three feet from bicyclists when passing from behind.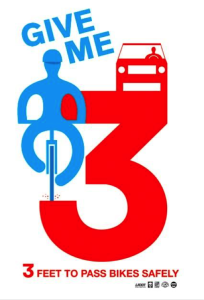 The bicycle law, which was enacted in September 2014, also states that if traffic or roadway conditions make it impossible to keep a distance of three feet between the vehicle and the bicycle, then the "driver shall slow to a speed that is reasonable and prudent, and may pass only when doing so would not endanger the safety of the operator of the bicycle."
Three Feet for Safety Act Spurred by Rise in Bike Accidents
When a recent report by the Governors Highway Safety Association showed that California had the highest number of fatal bicycle collisions in the country, lawmakers recognized the need for new safety requirements. Thus, the Three Feet for Safety Act was created and put into place.
The new bike law, however, does not eliminate the responsibilities of cyclists as they share the roadways with motorists.
Specifically, California bike laws state that cyclists who are traveling slower than the speed of traffic should continue to ride along the right side of the road, with some exceptions. Otherwise, cyclists may ride wherever they want if they are traveling the same speed as traffic.
Related Sources: