Elder abuse is not limited to physical symptoms. Read up on these 3 types of elder abuse, so you know what to look for with those closest to you.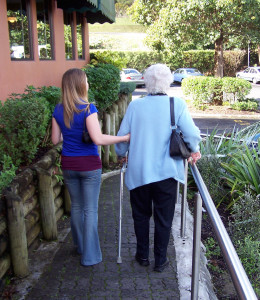 Older folks are often dependent on others to maintain their personal health and well being, especially as the effects of aging set in. Loss of hearing, sight, mental clarity, and physical agility lead many senior citizens to hire a caretaker or leave important decisions to family members.
Unfortunately, these arrangements sometimes result in elder abuse. While physical harm is one type of abuse, there are others that also constitute abuse against elders.
Let's take a look at the three types of elder abuse and what they mean.
Physical Abuse
When people hear about elder abuse, they usually think of physical harm first. While this includes assault, battery, rape, incest, kidnapping and other lewd acts, many people do not recognize physical abuse until they notice bruises or cuts on the elderly person. These can be signs of elder abuse, and may even be a part of a larger problem between the elder and those who are around them.
Emotional Abuse
While not as obvious as physical problems, emotional abuse is a major concern for the elderly. Emotional abuse occurs when the elderly person is abandoned, and it can also occur when they fail to receive necessary goods and services such as shelter, food, clothing, and personal hygiene.
Financial Abuse
When someone steals or misuses real or personal property, money, credit cards, or other personal financial items, it is considered financial abuse against the elderly person. Oftentimes, this happens without the elder being aware of the situation, or they have been "talked into" doing something under misleading circumstances.
You may have heard of several financial scams involving senior citizens, such as a person posing as the elder's "grandchild" over the phone and asking the elder to send money for an "emergency." This is one example of financial elder abuse, but it certainly is not the only one.
Whether physical, emotional or financial abuse, these actions are especially harmful to the elderly who often do not have the mental or physical health to defend themselves. Please be aware of these types of elder abuse, so you can protect the people you care about and love. If you suspect elder abuse and would like a referral to an attorney, please contact the Lawyer Referral and Information Service (LRIS) at (619) 231-8585.