Think you've just experienced workplace sexual harassment? Here are some steps you can take to resolve the issue.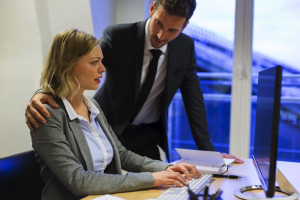 Make a record of it. Before speaking to a manager or HR director at your company, put together your records on the situation. Any harassing emails, online communication, or voicemails that support your claims can then be shared with the person in charge of receiving complaints at your place of employment. Always notify the manager or HR representative, in writing, of the harassing behavior.
Check your employee handbook. Most companies have established some sort of policies against workplace sexual harassment, including what to do if it happens to you. If you have not received a sexual harassment policy from your employer, then the law should be included in a poster that is required to be posted, or you can go to the Division of Labor Standards Enforcement to have many questions answered.
Determine the best advocate. The employee handbook may direct you to your manager, but what should you do if your manager is the problem? If the handbook doesn't give you an alternative, then consider going to your HR department. If you don't have an HR department onsite, then you may want to go to another manager within the company or someone who is in senior management.
Expect an investigation. If you complain about sexual harassment, then it is likely that your company will want to investigate the situation. An investigation may include a review of emails and personnel records – for both you and the accused, as well as questioning of other witnesses. However, don't expect that you will necessarily will be informed of the details of any completed investigation.
Go outside the company. If you are concerned that someone within the company is biased toward the accused or cannot be impartial toward you, then you have the option of hiring an outside consultant or employment attorney to advise you. Even in the earliest stages, an attorney can be of significant benefit to you.
Workplace sexual harassment is a serious situation that can affect the productivity and safety of employees, and it can happen to both men and women. In addition to the policies within your employee handbook, there are state and federal laws that can protect you against sexually harassing behavior at work. San Diego also has a number of community resources available to you.
Get a Referral to an Employment Lawyer
The Lawyer Referral & Information Service (LRIS) of San Diego County can refer you to an attorney who can provide you with up to 30 minutes of free consultation. To get a referral, you can call (619) 231-8585, chat with us online, or submit an online request.