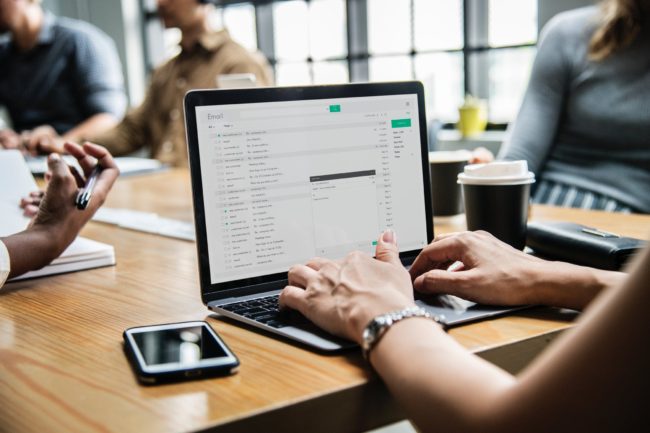 By Adriana Linares and Renée Stackhouse
Loosening up, if not entirely removing "office shackles," interests many lawyers — and never has it been easier thanks to many modern technology tools, apps and services. Here, we recap our presentation during the Second Annual SDCBA Law + Tech Summit.

HARDWARE

The Tech Dopp Kit

Yes! It's a thing! In 1926, a leather craftsman named Charles Doppelt designed a men's case for toiletries and called it a Dopp Kit. Today, we introduce the Tech Dopp Kit. It's the same but different — it holds all those random but necessary tech cords and devices for the road. Like we do with many regular Dopp Kits — it's supplied with the travel version of the necessities. If you pack it with a spare phone cord, a spare USB plug (get one with double USB ports), a spare mouse, a spare battery charger, etc., then you don't have to go scrambling for — and risk forgetting — those important items. It's also a blessing to those suffering from "Smartphone pinky" because you can throw in a foldable phone stand and small Bluetooth keyboard so you can take the burden off your abused pinky or thumb.

Printing & Scanning While on the Run

Being on the road doesn't have to mean no printing, no scanning or no mailing. If these are tasks you regularly need to complete while away from the office, your options are to carry your own or learn to use walk-in business services provided at retail stores such as UPS, FedEx or Office Depot. You can visit Amazon and search for a portable printer or scanner to see and review a bevy of affordable options. We can highly recommend Fujitsu ScanSnap scanners — they are widely used and highly regarded in the legal community. If you travel light, then becoming comfortable with walking into a business service shop will make your life much easier. Know that you can email and even pay for a print job ahead of time at shops like Office Depot; know that you can also connect to your Dropbox or Google Drive account right on a multi-function device in one of these shops; know that you can also plug your USB drive right into these handy devices. The key to using these services is to get comfortable ahead of time so you aren't frustrated and struggling while in a rush.

SOFTWARE

Microsoft Office

Microsoft Office 365 is a true gift for all lawyers. For $8-12 per month/per user, you have peace of mind in knowing that your most critical software services are active and updated. You can install Word, Outlook, Excel and PowerPoint on five devices. If you choose to use its document storage service (Microsoft OneDrive), then your documents will synchronize across those devices. There are many more benefits to the subscription service so if you are still holding out, wait no longer!

Add-Ons

More and more, add-ons are becoming normal to our daily computer use. Also known as extensions, apps or add-ins, they are often a third-party software script, app or service added to a program to give it additional features and functions. They can, and do, exist in browsers like Chrome, in programs like Outlook, and as apps like Grammarly for your mobile phone. Some of our favorite add-ons for Microsoft Word are WordRake and PerfectIt.

Virtual Assistants

Learning to use virtual assistants like Google, Siri and Cortana can help you power through the day with your voice. You can talk to them like a human assistant:
-"Hey Google, what is 90 days before Nov. 3, 2020?"
-"Siri, set an appointment for 3:30 p.m. to call Mike with a matter update."
-"Alexa, add paper towels to the Office Shopping List."

There's even a great add-on (Hey! See how we did that?) for Alexa called Tali that allows you to call out your billable activity and log it to many of today's modern practice management programs.

Keeping Your Client Information Private

As mobile lawyers, one must not forget that duty to protect your client's information.
-Encrypt your computer hard drive (BitLocker on a PC and FileVault on a Mac)
-Password protect your devices with complex passcodes
-Have a privacy screen on your laptop, tablet and phone screens

Want more insight into being a tech-savvy legal practitioner? You can find more resources at the Law + Tech section of the SDCBA website. Members also get the benefit of #TechTuesdays programming every Tuesday and free consults with Member Technology Officer Adriana Linares (mto@sdcba.org).

The SDCBA Technology Committee's purpose is to demystify the intersection between law and technology by identifying resources, content and programming to help members achieve, at a minimum, basic competency in legal technology to satisfy their ethical obligations, to keep members updated on new technology and to educate our members on how technology will benefit their business administration, client interaction and case resolution.

Adriana Linares (mto@sdcba.org) is SDCBA's Member Technology Officer.
Renée Stackhouse (renee@stackhouseapc.com) is a director for the San Diego County Bar Association and founder of Stackhouse, APC.
This article was originally published in the Mar/Apr 2019 issue of San Diego Lawyer.