Avoid Personal Injury to Children with this Traffic Reminder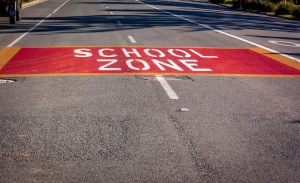 When school resumes on September 8 for the 2015-16 academic year, drivers need to remember that certain traffic laws exist near school zones.
Failing to follow these rules of the road in California can result in hefty fines and suspension of driver's licenses, not to mention the risks of personal injury to children.
While California has a "Basic Speed Law," which means you may not drive faster than is safe for current conditions, there are special guidelines when driving near a school or a stopped school bus.
If driving within 500-1,000 feet of a school when children are outside or crossing the street:
     

The speed limit is 25 mph unless otherwise posted. Some school zones have speed limits as low as 15 mph.

     

Never drive faster than 25 mph, especially if the school grounds have no fence and children are outside.

     

Look for bicyclists and pedestrians.

     

Obey school safety patrols and school crossing guards.
If there is a stopped school bus and you are not on a divided or multilane highway:
     

You must slow down and prepare to stop if the yellow lights on the school bus are flashing.

     

You must stop from either direction if the red lights on the school bus are flashing, and you must wait until the children are safely across the street and the lights stop flashing.
If you are on a divided or multilane highway (two or more lanes in each direction), then you do not need to stop for the school bus.
No matter where you see school children or buses, it is always a good rule of thumb to slow down and watch for children who are near the street. Doing so can save the lives of San Diego's children and help you avoid causing personal injuries as a result of an auto accident or pedestrian accident.
Related Content