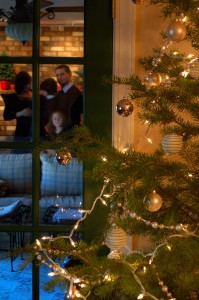 The holidays are here, and many of us are preparing for a house full of decorations, presents, cookies, and of course, family and friends.
For homeowners, this time of year also means it is time to check for anything inside and outside of the home that could cause an accident or injury, such as loose electrical wires and burning candles.
We all need to protect our family and our guests from danger, so we can protect ourselves from personal injury claims, too.
Here are a few items for homeowners to check throughout the holidays:
     

Slippery surfaces: If you get snow or ice, then be sure to shovel as soon as possible and put down a layer of salt on all surfaces. This includes sidewalks, stairs, front porches, and driveways. You should also put out door mats to keep floors dry and help guests avoid

slipping and falling

.

     

Lights: If you use lights to decorate outdoors, then make sure all cords are neatly tucked into trees and bushes or mounted onto the home. Indoors, be sure cords are not hanging where children or pets could pull on them, trip on them, or become strangled. Consider installing motion lights outside to help guests see better after dark.

     

Candles: They look and smell beautiful, but if you choose to light wax candles then stay in the room where they are lit. Blow them out if you need to go to a different area of the home. Better yet, find battery-powered flameless candles that are safer.

     

Heaters: If you have special heating elements in your home or you use space heaters, be sure to keep them clear of fabrics or other items that could cause a fire. Do not let guests put their coats near heaters.

     

Fireplaces: Lighting the fireplace is one way to keep guests cozy during the holidays. Be sure to open the flue, so you can avoid high carbon monoxide levels, which can cause serious harm. On that note, check that all carbon monoxide and smoke alarms are in proper working order.

     

Ovens/stoves: Whenever you use the oven or stove, stay close by. Make sure children and pets play somewhere else, as they may be able to grab pan handles and get burned, cut, or experience other personal injuries as a result.
If a person does become injured on your property during the holidays, then you could be at risk for a personal injury claim. Before you celebrate, it is important that you inspect interior and exterior areas regularly and take steps to keep them clean and safe. Not only are you protecting yourself from legal complications; you are also providing a secure environment where your friends, family and guests can feel comfortable.
In the event you do experience an accident or personal injury on your property, then you should get a referral to a personal injury attorney. The Lawyer Referral and Information Service (LRIS) of San Diego County provides referrals to attorneys and community resources to help you navigate the legal process.