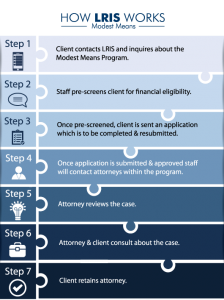 Modest-income families sometimes have the greatest need for legal help yet have limited access to it. This is why the Lawyer Referral and Information Service (LRIS) of San Diego County developed the Modest Means Program, to help clients who are having a family law dispute and are able to pay for legal services but have limited financial resources available.
How does the Modest Means Program work?
First, the LRIS screens the client for financial eligibility. If qualified, then the client needs to complete and submit an application, which has to be approved by LRIS staff. If approved, the LRIS contacts family law attorneys within the lawyer referral program. Once an attorney reviews the case, he or she will contact the client for an initial consultation. The client will then have the opportunity to retain the attorney with special arrangements made through the Modest Means Program.  
Family law cases may include marriage and divorce cases, prenuptial agreements, annulment, alimony, child custody or visitation, child support, paternity, domestic violence and other family-related legal issues.
Any of these types of cases qualify for the Modest Means Program. Clients who are in need of a family law attorney but have limited financial resources may find this program helpful in the legal process.
Learn More
To find out if you qualify for the Modest Means Program, you can call the LRIS at (619) 231-8585 or chat online with the LRIS staff.
To learn more about the program, you can visit our Modest Means page.