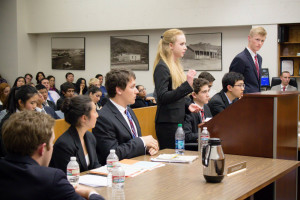 This year's San Diego County High School Mock Trial Competition is less than a month away, and we are excited to get started with one of the most exciting, annual student programs.
What is the Mock Trial Competition?
The San Diego Mock Trial Competition is part of a larger, statewide academic competition, which encourages students to compete at the county, state, and national levels. The trial is a simulation of a criminal case; students study the hypothetical case, conduct legal research, and are assisted by volunteer attorneys in trial preparation and courtroom procedures.
During the competition, students can participate in a variety of roles, including: lawyers, witnesses, court clerks, and bailiffs.
For the 2015-16 Mock Trial event, we are expecting more than 500 students in San Diego County alone. At the state level, more than 8,000 students are expected to participate.
This year's case will focus on the Fifth Amendment as it pertains to self-incrimination, and students are preparing to argue their respective cases.
The first round of the San Diego County High School Mock Trial Competition is Thursday, February 18, 2016. Subsequent rounds will take place during the following week, with the final championship round being held on Saturday, February 27, 2016.
Looking for Volunteers
The Mock Trial is a fun, educational event not only for the students, but also for those who volunteer their time.
If you are a local attorney, paralegal, legal secretary, law student, or JusticeCorp student, you can volunteer to participate in the Mock Trial Competition.
Volunteer as Courtroom Monitor