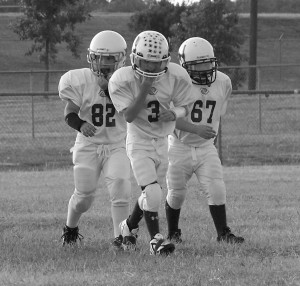 As the fourth most-popular youth sport in the U.S., football certainly has its place in American society. However, it doesn't come without personal injury risks, especially when it comes to our youngest players.
According to the Journal of Athletic Training, about 28 percent of youth football players were injured in 2007, resulting in more than 187,000 emergency room visits.
So what types of personal injuries have the potential to occur with children who play football? Let's take a look.
Heat Stroke
Between 1995 and 2001, 21 young football players reportedly died from heat stroke in the United States, per the American College of Sports Medicine. Particularly during preseason practice, heat- and dehydration-related issues can put players at risk for heat-related issues. The risks for personal injury increases when athletes fail to maintain fluid balance, have inadequate fitness levels, or use dietary supplements. There are also other causes for heat stroke and heat-related personal injuries.
Concussions
According to the Centers for Disease Control and Prevention, there are 55,007 concussions from youth football each year – 0.47 concussions per 1,000 athletes. Concussions are a type of traumatic brain injury caused by a blow to the head. Although some youth football leagues have forbid the use of helmet contact, tackling is still allowed in some organizations and can be the cause of a concussion. Also, even though a player may fully recover from a single concussion, the effects of repetitive concussions over time can cause the greatest personal injuries and impairment.
Long-term Brain Damage
Children under the age of 12 who play tackle football could be at a higher risk for permanent brain damage, according to results of a Boston University study released earlier this year. This type of personal injury is perhaps the most devastating, as it can alter the ability to control mood, retain memory, and perform complex tasks.
The same study, which applied neurological tests to retired NFL players who started tackle football before age 12, concluded that these players performed "significantly worse" than players who started playing football after age 12.
This, of course, is not an exhaustive list of personal injuries that can happen in youth football. If you believe a personal injury has occurred and you want to discuss your legal rights, then it is best to speak with a personal injury lawyer who has experience in sports-related lawsuits. This way, you can approach the issue legally and with thorough representation.